Karima Benamara | Personal Stylist in Vienna
Discover your style.
Rediscover your wardrobe.
Emerge transformed.
Express yourself with style
What we wear creates a statement, and even starts a non-verbal conversation with those we encounter.
Sometimes you want to say "I'm the boss," "Take me seriously," or simply "This is me." Other times you may want to communicate a feeling – an openness to meeting someone new; joy and optimism with a new phase of your life.
If you have made a recent change and want to express a new role or identity, or just want help defining your signature style, let's talk. As a personal stylist, my goal is to help create a wardrobe so you look fabulous and feel confident that you will be both seen and heard.
I offer color & style analysis, wardrobe editing, personal shopping, separately or as one transformative package.
Curious? Let's get the conversation started!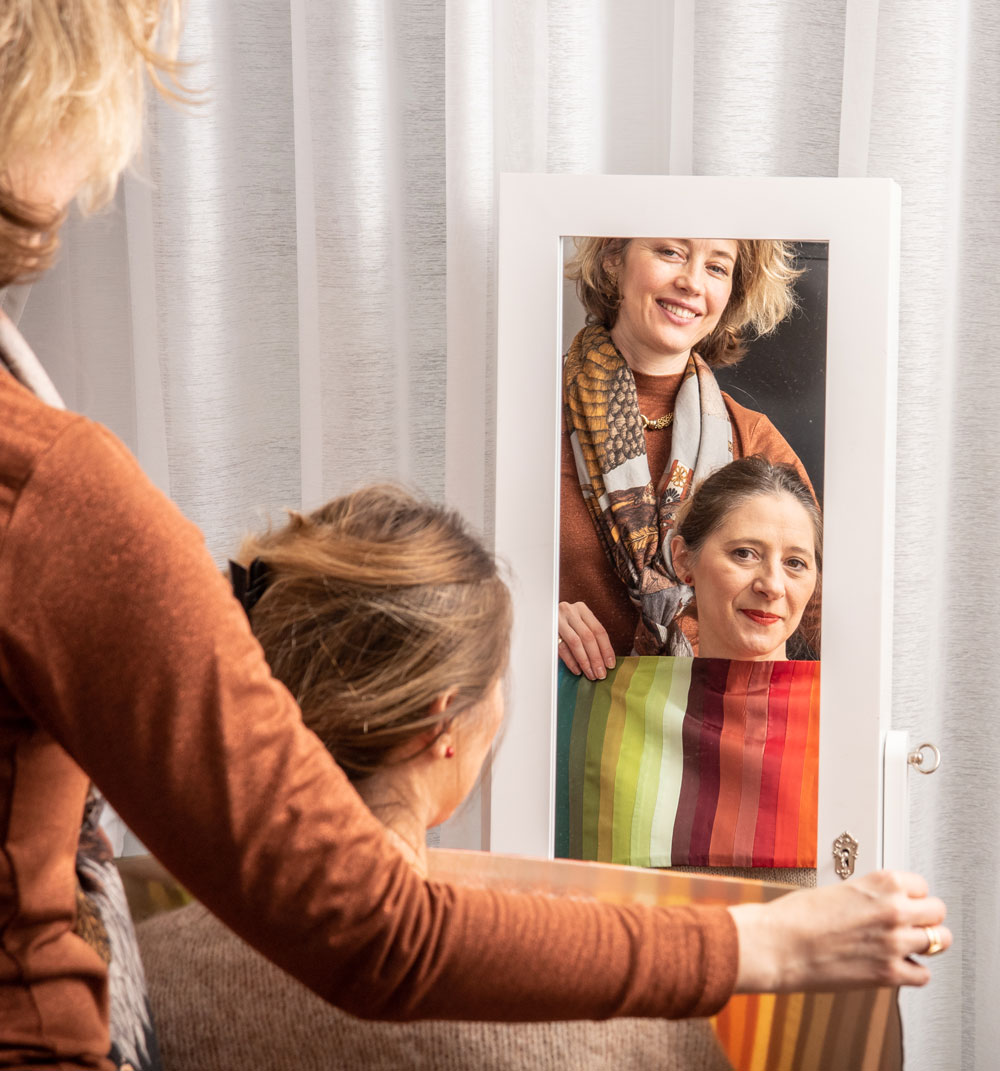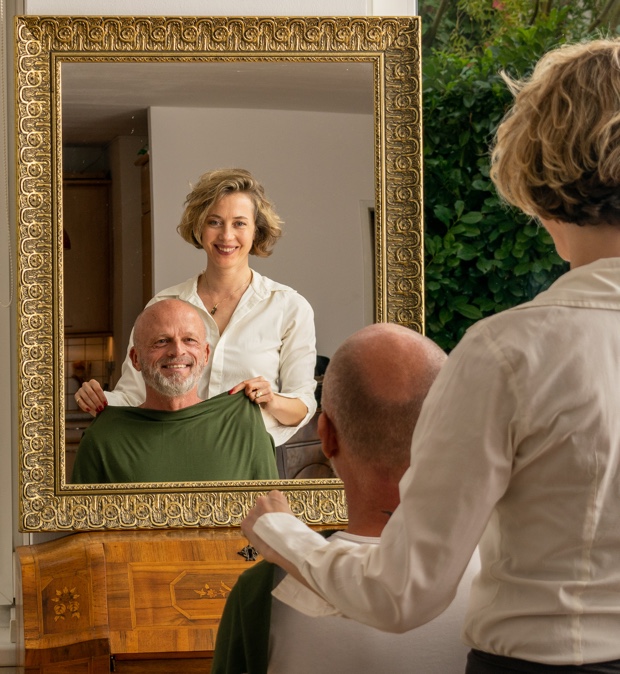 My consultations begin with learning about your style preferences and what you want to achieve – who you want to see when you look in the mirror, and how you want to be seen by those you encounter – whether your managers, direct reports, customers or potential romantic partners.
I then work with you to develop a wardrobe so that getting dressed is easy and makes you feel wonderful. My services range from discovering your personal colors and style, to creating new looks from what you already have, to a complete style transformation.
The process should be fun – we can play with ideas and experiment. My mission is to give you a great foundation, and the confidence to keep developing your wardrobe on your own.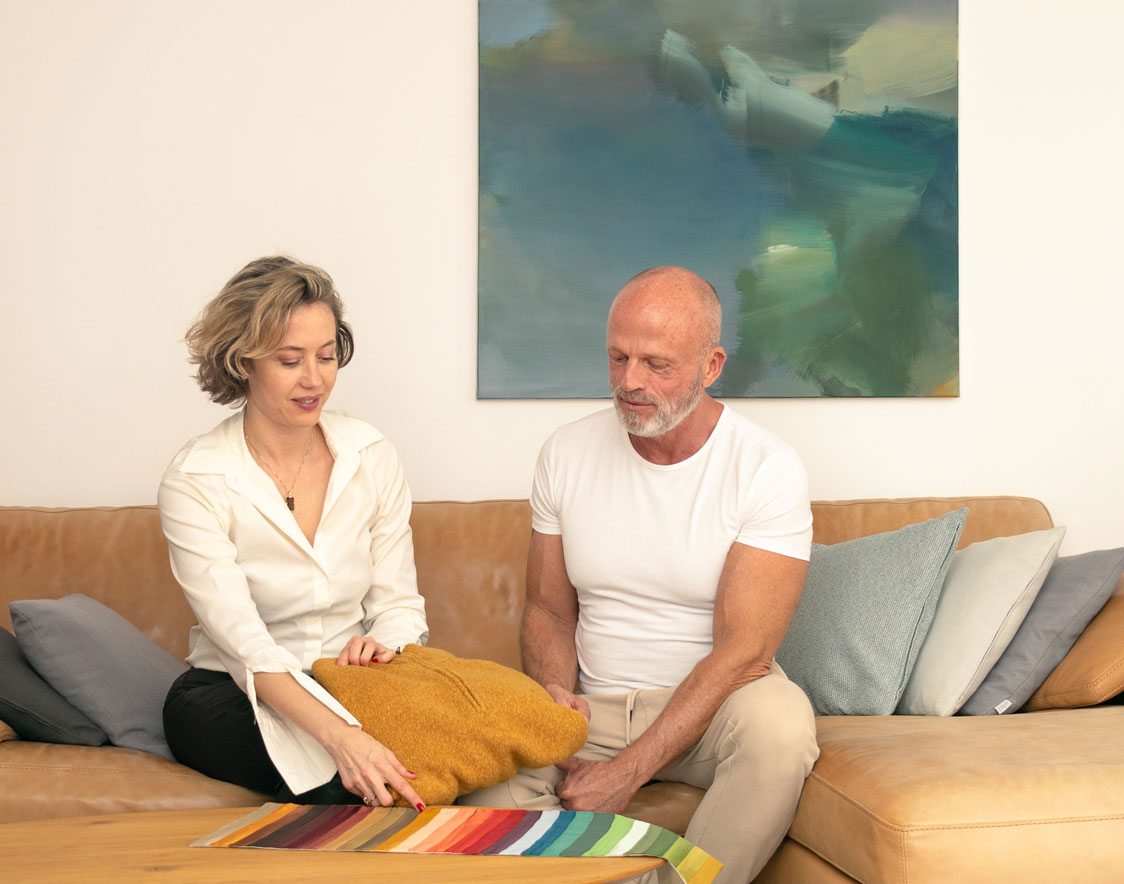 01 – Color & Style Analysis
€ 299 (3 hours + guide; excl. travel time outside of Vienna)
Shine like only you can! Knowing the right colors for your complexion, hair, and eye color and which styles complement your body type and personality will help you look and feel your best, and make shopping more efficient – invest your time and money on finding pieces that flatter you, and that you will wear with pleasure.
Details
Color Analysis: I work with color palettes based on seasons – Spring, Summer, Autumn, and Winter. Each of these seasons has its unique combination of hue (warm-cool), value (light-dark), and chroma (bright-muted). I use swatches of colors from each season to discover which one harmonizes best with your coloring.
Color Analysis only – € 110 (1 hour + guide)
Style Analysis: I believe everyone has unique characteristics that should be accentuated (rather than flaws that need to be corrected), and help clients find the best styles for their body type as well as their personality. Think categories such as dramatic, romantic, classic, natural, or gamine.
02 – Wardrobe Edit
€ 299 (3 hours; excl. travel time outside of Vienna)
Being stylish requires a functional, not expansive, wardrobe. Let's go through your closet and discover which pieces to keep, have altered, or sell/donate. I also take a look at accessories – shoes, scarves, belts, jewelry – they play an important supporting role.
I then create exciting new combinations from what you already own, and identify any new pieces needed to complete your wardrobe.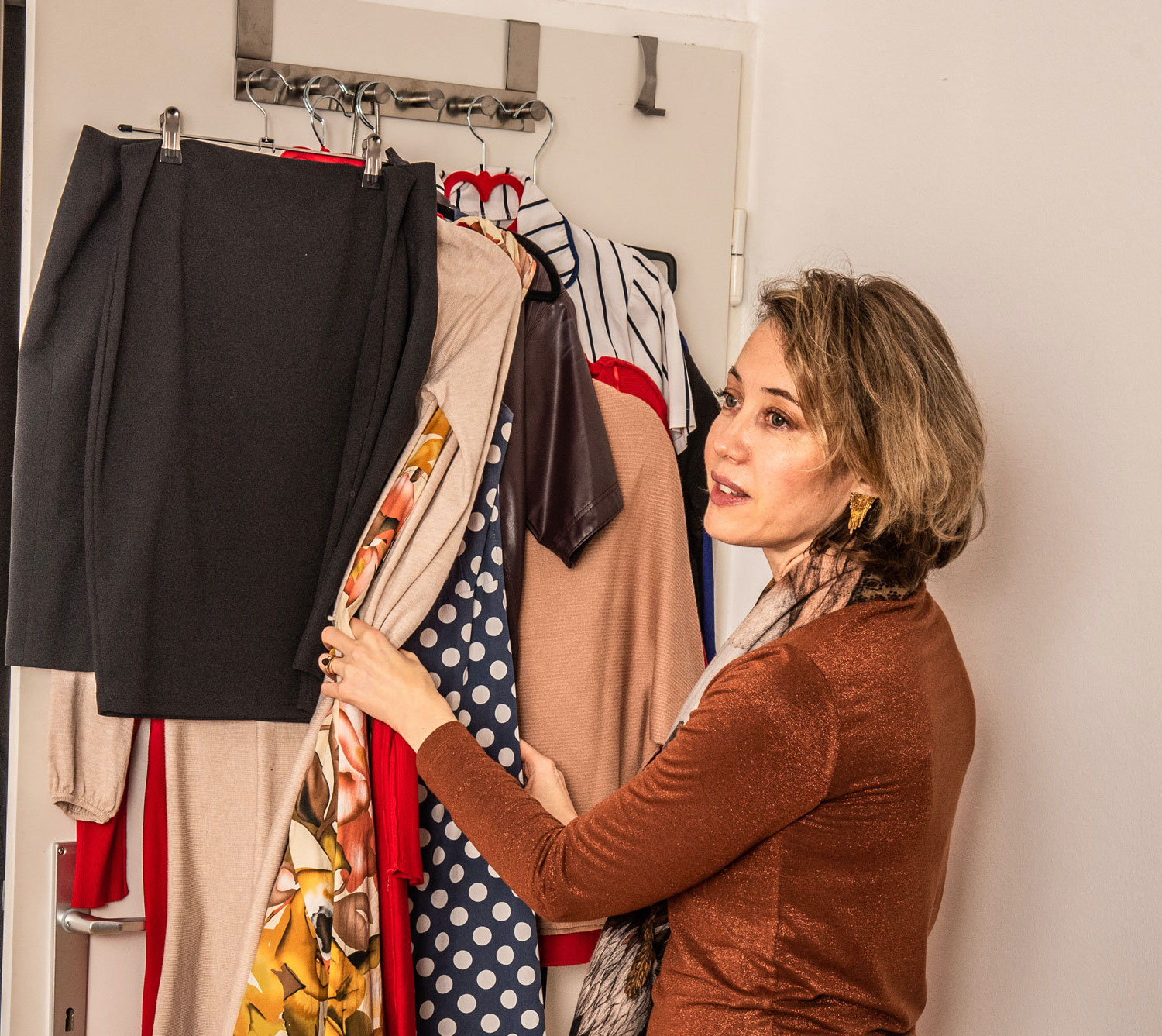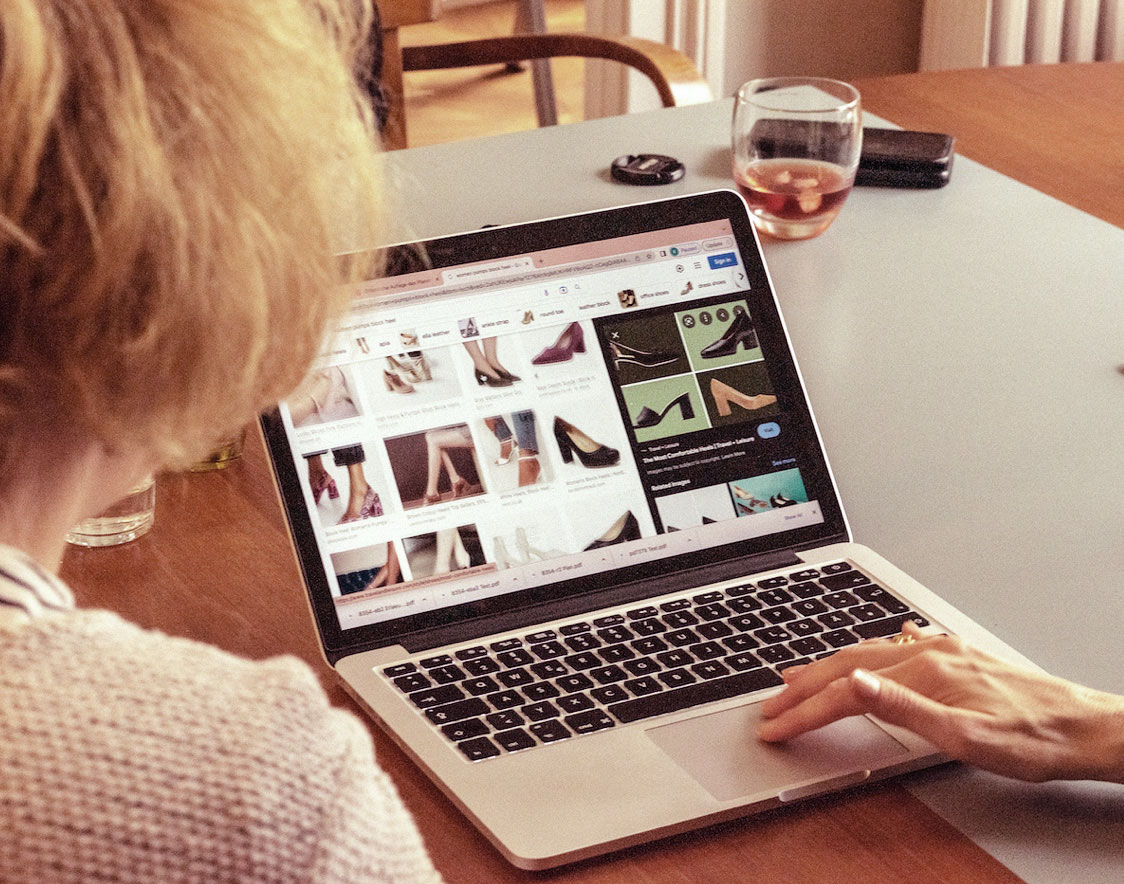 03 – Personal Shopping
€ 99/hour
If you dread shopping or don't have time to shop, wander around stores and buy nothing or end up with bags of clothes you never wear, let me help you!
I can either accompany you on a shopping trip or go on my own and send you photos with store/size/price information. The planning of what you want to buy is usually done as part of a Color & Style Analysis or Wardrobe Edit.
04 – Style Transformation
€ 989 (11 hours in 60 days; excl. travel time outside of Vienna)
Clients often come to me when they want to invest in a transformation to reflect a major change in their life. It could be a big promotion, a return to work after maternity leave, or a re-entry into the dating world.
A style transformation combines all my services into a package where we work together over two months – a transformation can't be done overnight, and this gives both of us time to experiment and consider.
Details
Initial Consultation: We have an initial conversation to discuss your needs (30 min online).
Questionnaire: I give you a list of questions to help you think about different aspects of your style – this gives both of us a great foundation to build on.
Vision Board: You create a vision board with looks/outfits/styles that appeal to you, either online (e.g. Pinterest) or using magazines.
Second Consultation: We meet to discuss your input (1 hour).
Color & Style Analysis: We discover your personal color palette, body type, and personality, and define your signature style (4 hours).
Wardrobe Rediscovery: Based on your color & style analysis, we go through all your clothes and accessories to create exciting new combinations that express your signature style, and figure out which pieces you need to add to complete your wardrobe (3 hours)
Personal Shopping: Based on pre-selected clothes/accessories (3 hours)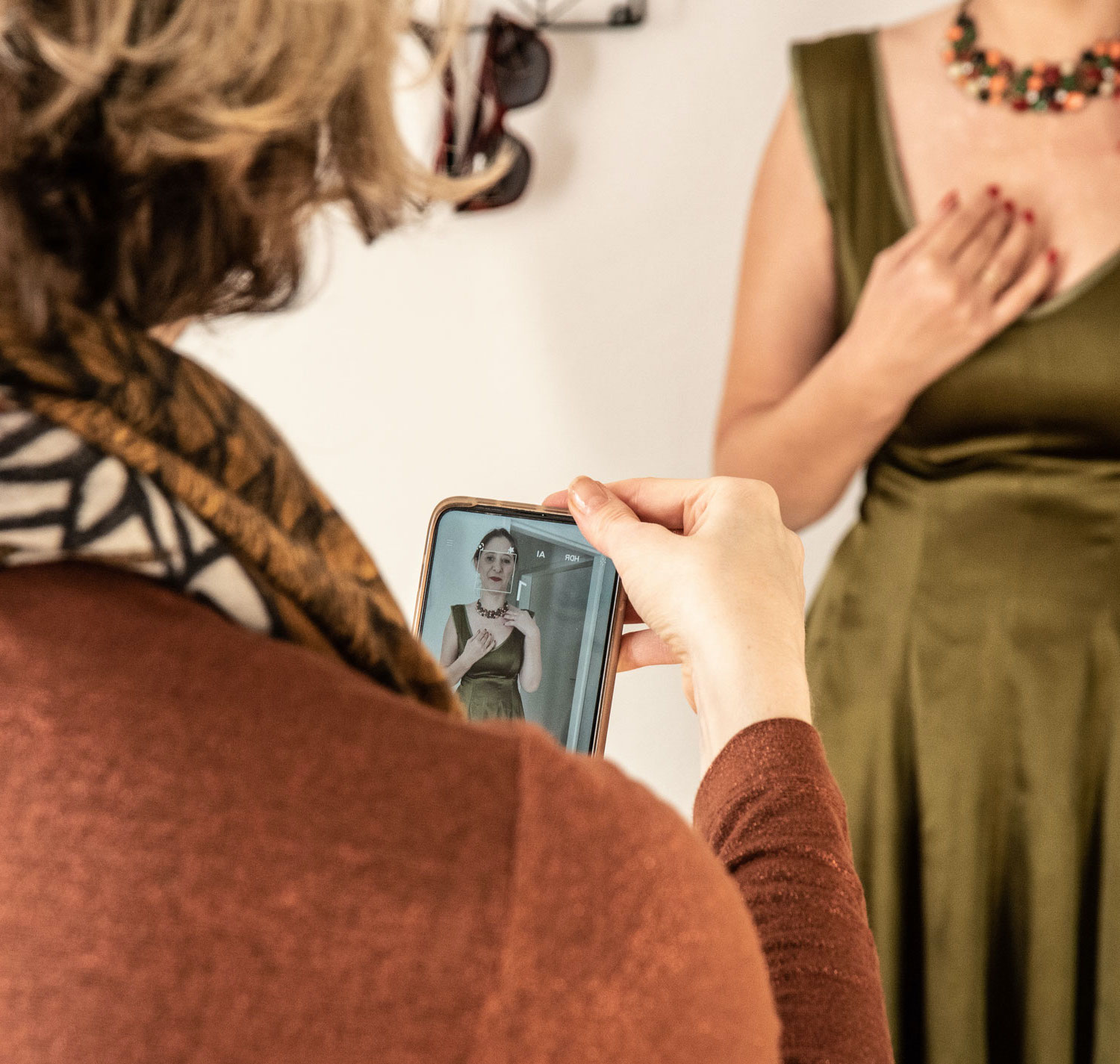 Gift certificates
Treat someone you know to a stylish experience. Bespoke gift certificates are available for any amount.
What clients say about me

I really enjoyed the consultation. I felt very comfortable with Karima; she listened to my preferences while also encouraging me to get out of my comfort zone. I also really appreciate the follow-up – the links to my color palette and the summary of what we discussed, especially the list of items for filling in gaps in my wardrobe. I will be recommending Karima to friends!
KATHRYN NENNING, MARKETING PROFESSIONAL
(color & style analysis)

I am so thankful for Karima's understanding of my sustainable lifestyle, for finding all the treasures hidden in my closet, and for showing me how to combine them for various occasions.
NICOLE KRISTOF,
COMMUNICATIONS MANAGER & CONSCIOUS CONSUMER
(color analysis & wardrobe edit)

I contacted Karima because I needed new shirts, suits, shoes for work and have neither the patience or confidence to go to the stores myself to find something that suits me. I was not sure about my own choices, many times I bought items that were never used.
The first shopping trip was terrific. We went to a large department store, where Karima took in my coloring and body type and chose a few suits that are appropriate for my profession and match well with the shirts I already have. Since then, I have hired Karima three more times to find shirts and shoes for work and clothes for smart casual wear. She is fun to shop with, and finds exactly what I need within a couple of hours, which is crucial as I have little free time.
I now feel more confident on the job and am noting approving looks and compliments from colleagues as well as from family and friends. I would definitely recommend Karima for those who want to change their wardrobe in an efficient and cost-effective way.
MALE, DIPLOMATIC SERVICE
(personal shopping)

Karima did some rigorous investigatory work before our main session: looking into lifestyle preferences, complexion, and favorite existing looks. Before figuring out what outfits to combine, she offered me a fabulous presentation of looks and potential solutions to the event I was being styled for. What a transformation.
Karima is a wise and experienced stylist who knows what she's doing, helping you to make a beeline for the right look for the right occasion with renewed confidence.
NARJAS WINDO, LOGO DESIGNER
(style transformation)

I have little time and less patience but Karima made winter wardrobe shopping an efficient lunchtime pleasure. I'm delighted with the friendly colors she selected to warm up my personal style!
N.B. DIRECTOR OF COMMUNICATION
(personal shopping)

The meeting with Karima meant that moment when I understood why some colors make me feel confident and others make me feel insipid. She showed me the power of accessories used in unconventional ways. I recommend the experience for the sensitivity and professionalism in making recommendations. Thank you for the experience.
GABRIELA HERZOG
(color & style analysis)

Thanks a lot for the service. It was really amazing and helped me understand why I don't wear some things and why I cannot rid of some things that maybe I am not very happy about. And it's all to do with the color of the garment. Crazy. Thanks a lot again. And thanks for showing me some bomb combinations with my own wardrobe.
FEMALE, CORPORATE POSITION
(color & style analysis)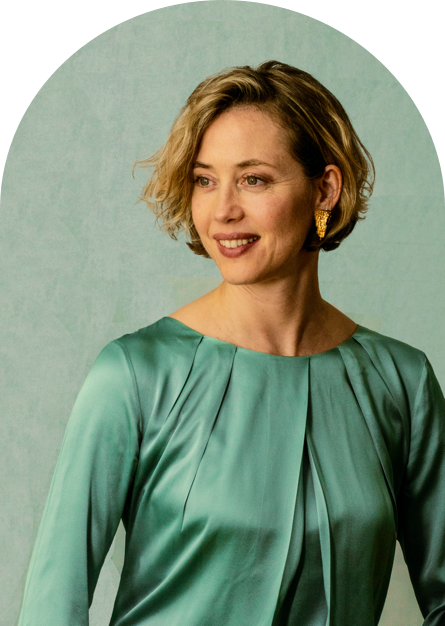 I was born in Washington DC and grew up in the US and Vienna, where I attended an international school; I then received my Bachelor's degree in psychology from the University of Kent in the UK. Taking a sharp left, I received a Master's Degree in painting and graphics from the Academy of Fine Arts in Vienna.
After a career as an artist, I began working in communications with healthcare and pharmaceutical companies and for the UN, while maintaining a creative outlet by writing a style blog and advising friends and colleagues on how to look and feel more confident and stylish.
In 2021, I founded Styling with Karima, further honing my color, body type, and style analysis skills.
I have been interested in style and how it affects one's self-image and confidence since I was a teenager, and know from experience how a person's style changes as time, professional development and life impose their changes on one's identity. I am a Warm Autumn, and dress to reflect my personality – classic, bold, and feminine.
Five Questions with Karima
Q: In your days as a painter, which color were you always reaching for?
A: Cadmium red – intense, bold, bright.
A: Street style, vintage fashion, old Hollywood glamor, art, and nature.
A: Grace Kelly – she's classic and glamorous, confident, sophisticated, and witty.
Q: What do you never leave the house without?
Q: What's your best piece of advice for those interested in style?
A: You make the outfit look fabulous; otherwise they are just clothes.